Rwanda is one of the most exceptional countries in East Africa. Promoting community based tourism is worth as it largely targets the local communities and the local residents rather than the government. With community tourism, tourists are hosted and accommodated by local residents especially in areas whose economy is not doing well.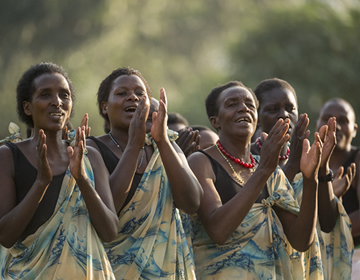 By so doing, the local residents are entirely become the beneficiaries in such a practice and at the end, their livelihoods will be enhanced in the community. This gives an insight that promoting community visit is for tourism and service sector as well as the local residents who in turn will earn a living as service providers. Today the concern is largely based on establishing good accommodation facilities of budget to ensure quality service provision and in a long run boosts the tourism sector in the country.
With that, there are several community based tourism projects that have been set up in Rwanda and they have attracted most tourists mainly for their lodging facilities, traditional performances, eco tourism activities and cultural encounters and many more. Usually, after breathtaking adventures at the park, most tourists would wish to interact with the community members around the protected areas and hence creation of various community activities to suit the demand at hand. For community visits in Rwanda, the following are some of the exciting activities for you to enjoy while on Rwanda safari.
UBUMWE COMMUNITY VISIT
Community-visitor interaction in Rwanda is best done at Ubumwe community. The Ubumwe center accommodates adults with disabilities and their children. It is a place where children are given an option of education, where they can learn skills, work and also be able to live independently. It helps over 130 children and adults with counseling, primary education, vocational training and workshop employment. It offers safe, inspiring and nurturing atmosphere for the local children who are both healthy and or have disability. While on your safari in Rwanda, you can also engage in educational visit with some practical work with adults and children.
NYANGE COMMUNITY WALK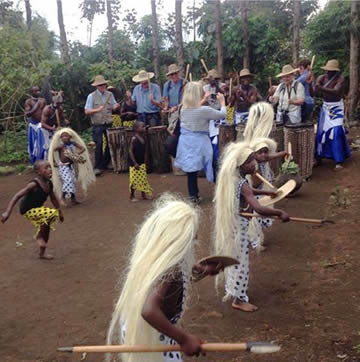 The walk through this community allows you to explore most of the on going aspects of Rwandan village life. You will be accompanied by socola guide who will take via the Nyange community for nearly 30 minute drive from the lodge. There are various community activities that are provided in this community some of which include local iron smith, banana beer brewing, mat weaving and carpenter work which are done in various homes. A visit to this community allows you to explore the traditions of Rwandese especially food preparation and also taste their traditional dish. Along the way, you will encounter various tree nursery beds, health clinic, a socola village and twa village which will welcome you with sound songs and dances. For this community walk, you will need $30 per visitor and includes guide fee. Nyange living experience comprises of five villages and 42 sub-villages with over 24235 occupants.
KAGANO LIVING VILLAGE
The Kagano living village walk is a walk that takes you via the Kagano village where you will experience the rural Rwandan way of living through sign and product viewing and engaging on their daily activities. The walk lasts for 2 to 3 hours via undulating local people homes, farms, businesses and activities. It gives you opportunity to explore Rwandan life in depth, what they grow, eat how they behave, socialize and the way they work and spend their social time. There are local guides to help translate to you some of the activities as you walk through the village.
THE HUMURE REFUGEE VILLAGE TOUR
This is a 40 minute drive from Akagera National Park which takes through local cooperative visit where you will learn about their cooking and dancing skills. You can also visit the Imigongo art and craft centre which was designed by prince Kakira.
The craft house was decorated using cow dung and is also usually produced by the women. Dry dung is applied together with colors from the organic material such as the plants to make white and red paints. It also leads you to the cattle farm where you will engage in milking cow and explore the rituals around milk. You will also head to the farmers homes and then see the way milk was traditionally kept, treated and preserved till it is turned into ghee.
The arts and crafts activities will allow you explore the way local artisans will make their products, the Imigongo is the leading Rwanda art and innate to the eastern province that is a family of black smiths exhibiting their talents and the traditional dancers who express Rwanda culture via music and movement.
THE GORILLA GUARDIAN VILLAGE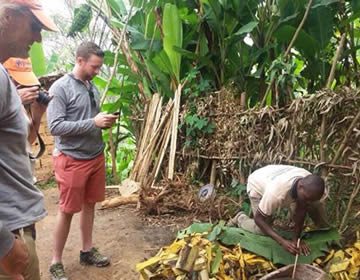 Visit the Gorilla Guardian Village formerly called Iby'Iwacu village for cultural dances and also visit the king's palace and also exercise the king's powers as the elders give them up you via a village ceremony. You will also have opportunity to encounter the eight distinct dances including the popular Intore dance, explore how to drum in Rwandan style or visit traditional healer's place, visit the Batwa in Rwanda.
In conclusion, Rwanda is more than wildlife, there are a lot more exciting things in offer for you to enjoy while on community visit. A community visit can be incorporated with wildlife safaris in Rwanda's national park.